Stoudt's Country Music
This 'n That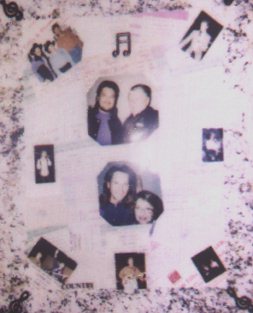 The Stoudt's, Dave, Linda, Michelle and Sean,
are all huge country music fans. We have certain ones we enjoy together, but then we all have our own favorites. We all enjoy attending concerts, listening to our favorite radio Station, or the latest CD.

This page is to share with you some of the great stories and photos of concerts we attended. Also supply you with links and photos of favorites. Some of the Links will be right in the story or will be listed below.
The above photo is a shadow box I made with some of the ticket stubs from some of the concerts that we attended. I just wish that I would have all of the stubs from
all the concerts we attended before I decided to save them to make a shadow box. I would have had enough by now to do another one,instead of just collecting them.



Congratulations Diamond Rio

on your induction into the Grand Ole Opera

Stoudt's Rio News Flash

Thanks Jo Quillen for the Info

Going on May 16 to Berlin, MD for a Diamond Rio Concert at Bally's Ocean Park. From what I understand this is an Outdoor concert. Our first outdoor concert since seeing Brooks & Dunn, and Faith Hill in the pouring down rain at Hershey's Stadium. Hope it is nothing repeat nothing like that. But I know that it will be out standing, no matter what the conditions are. Looking forward again to Rio's Meet & Greet. Hope to take more fantastic pictures so that I can post them on this web page.

How do you start to tell someone else, about the best group in Country Music. Until
you have the opportunity to go to one of their concerts, you can not imagine just how
great they are. We have had the opportunity to go to many of their concerts. The most recent was in Eaton, PA. This was the second concert of the new tour. Not only do they give you the best music, but some of them, could be comedians.

Dana


especially. It was this concert that we all found out how multi-talented he was.
His little pranks he does to all of them, trying to be sneaky about it. The drum duet he did with Brian is unbelievable. It was minutes of pure enjoyment.

Brian,


watching him play the drums through out the concert is a show in itself. He really knows how to play those drums and twirl those sticks.

Marty, what do you say about a guy with a beautiful voice. My favorite song is

Beauty and the Beast, from the Disney goes Country CD. I am hoping that some day they will do it at one of the concerts.

My favorite part of the concert is the unplugged part. It was there we heard them do music recorded by other artists.


Saturday in the Park was unbelievable. It was during the unplugged part that we got to see that Brian has a good voice too. The first we ever heard him sing.

When they did the song How your Love makes Me Feel, their wasn't a person in the audience who wasn't singing along. In fact, you could hear the fans at some point more then the group. I know that they will win every award that song is nominated for.

Love to see Marty, swerve to the left,when they do How Your Love Makes Me Feel.

Jimmy, what can you say about the best musician in country. The only other words
that come to mind is what Barbra Streisand said to Omar Sharif in Funny Girl,
Hello Gorgeous!!!!!!!!!!!!!!!!!!

Gene,

love to hear him play his mandolin and watch
him try to get back at Dana for all the pranks he does. No one else can play those
like Dan. There is no one better.
The closing of the show, after a standing ovation, was their rendition of China Grove. It never sounded better.
Unfortunately, the next time we would be able to see them, would be when they perform at Great Adventures in New Jersey. But I know Marty will forgive us. We will be at Dover Downs, for a NASCAR race, go # 94 Bill Elliot.
Another good site for Diamond Rio info

Photos from Rio's Meet and Greet and Concerts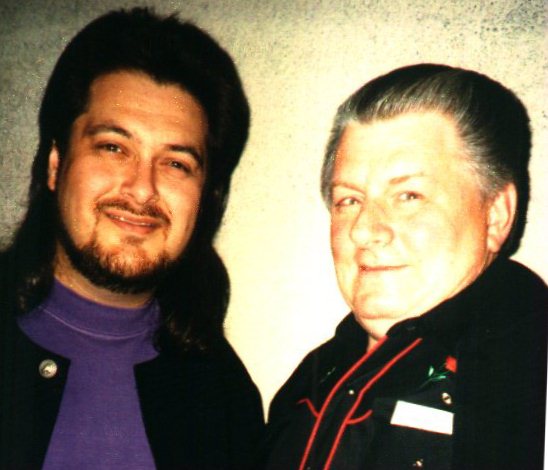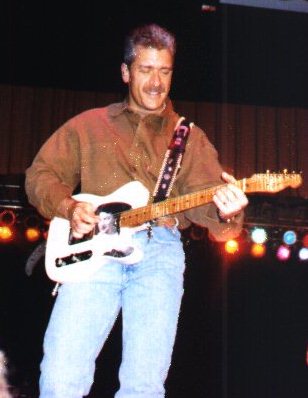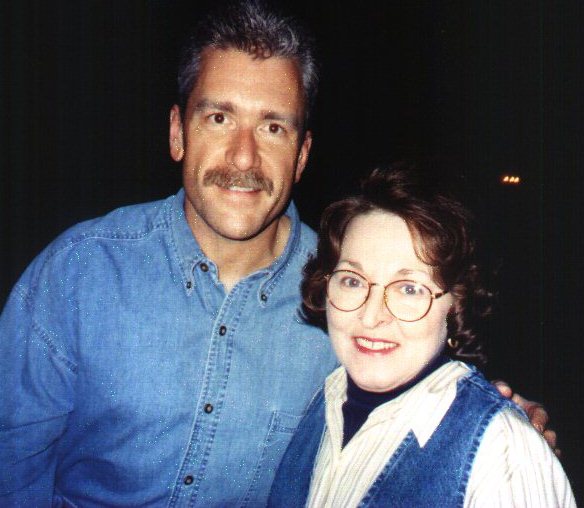 Dana & Dave Jimmy the Musician Jimmy & Linda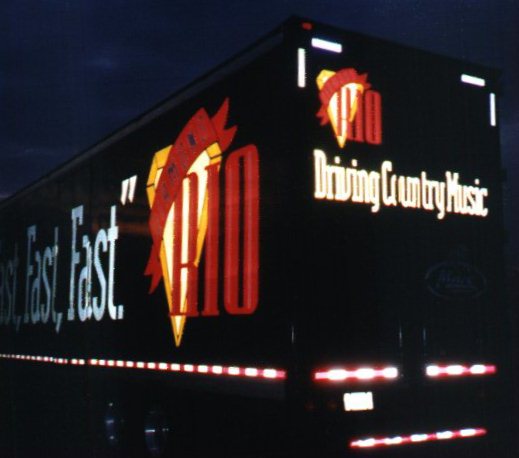 A truck on the move to bring good music
This photo was history in the making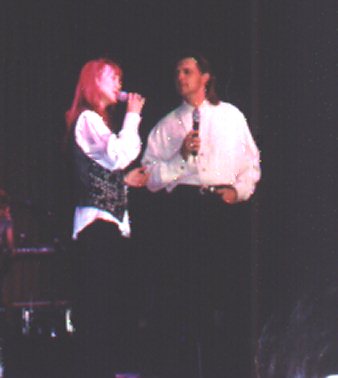 Pam Tillis and Marty
The first time Pam and Marty perform the song live,
which they had recorded a few years ago.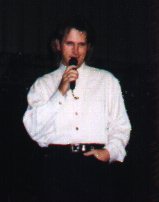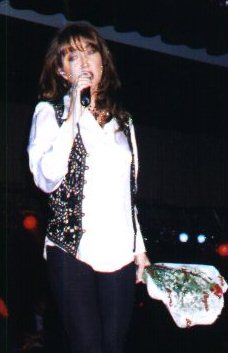 Marty Pam

This photo below is of Sean, when he got to meet his favorite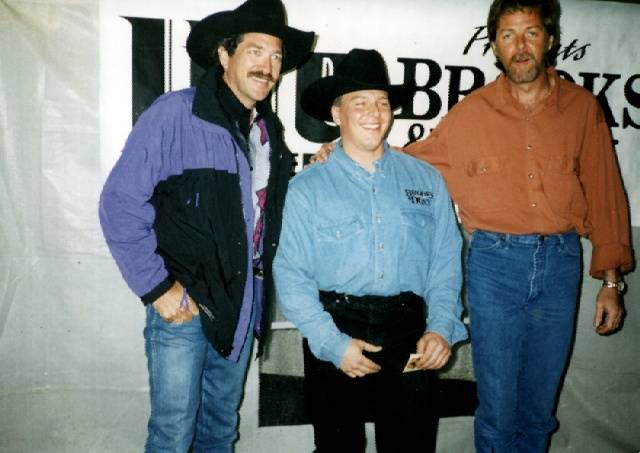 Brooks and Dunn

The very first time we saw Brooks and Dunn, it was raining like you would not believe. Basically the whole concert it was raining or drizzling. It was at Hershey

Park's stadium. The rain probably made the concert better. Kix's said, "if the rain doesn't pose a problem for you, we'll give you the concert of your life.

Their opening act was Faith Hill.


She told us that Brooks & Dunn are quite the characters. Love playing practical
jokes on her. Especially jokes with bugs and critters.

Just seen Brooks and Dunn's Concert for the 1998 Season. It was outstanding. It is amazing the scenary that they always have. Took out the blowup Steer Head and replaced it with some blow up boots. They probably embarrassed the drumer enough by letting it collapse on him on national tv. As usually Kix's was in a devilish mood. Ronnie could become a major league baseball catcher the way he was catching all those drum sticks. Didn't miss a one.
OTHER CONCERTS WE SAW

Besides seeing Brooks and Dunn, we saw two weeks later Alan Jackson and Trace Adkins.
We had seen Alan Jackson many times before, so we were actually there to see Trace Adkins. Of course Trace opened the show. For many years, my daughter, a friend, and myself said that there is no one who could wear a pair of Wrangler's the way Sammy Kershaw could. My opinion changed that night. TRACE does for a pair of Wrangler's, what a Playboy Bunny does for a bunny suit. He knows the right moves and shakes. OH, be still my beating Heart. I don't think that there was a woman in the audience who didn't have the same thoughts that I did. Don't even ask what those thoughts are?

Alan Jackson was good too. But it was the weekend before it was publicly announced about the divorce. You could tell that many things were on his mind. But maybe after just seeing Trace Adkins, my mind would and could not concentrate on Alan Jackson. Dave really loved when Alan did Mercury Blues, but instead did it about Ford Trucks. Which is what is Dave's favorite truck. In fact, sometime in 1998, Dave will probably be ordering a 1999 Ford F350 Truck. Of course, it will be black, just like all the other vehicles in the Stoudt family. Oops, Michelle has a Red Ford Mustang. Dave keeps telling her that he is going to put all the logos from Bill Elliots #94 Nascar car. Our favorite Nascar Driver.

The next concert we saw was Clint Black. What can you say about the concert, except that it was great. The crowd was really into it. I could have sat and listened to his "unplugged" session all night. Would love to have his Cadillac sofa. A great conversation piece. Had lots of great videos when he was performing. This is a concert you should not miss.


We feel about George Strait, like we do about Diamond Rio.

He is probable the best single performer around. By single, I mean one. Can you
imagine if he were single. He already has a lot of women after him and he is
married.
We had the opportunity to see him in concert twice. The first time was at the
Taj Mahal in Atlantic City. Since I belong to the fan club, I could get fan club
seating. So we were in the sixth row. He was fantastic. He is such a shy guy.
The next time we saw him was at Penn State at the Brice Jordan Center. This
time instead of being up front, we were close to the nose bleed section. But we
were there for the music and hopefully get a glimpse. That is what we got too.
A GLIMPSE.
One of his songs, All my ex's live in Texas, is one of my favorite. In it he sings about Linda in Temple. Well, I live in Temple, PA, so I let my imagination get carried away itself, and think he is singing about me. Some imagination!!!!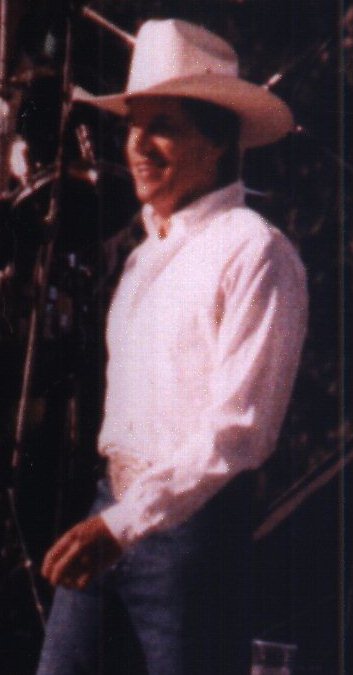 In the near future, we have tickets to see the following people in concert.
Brooks and Dunn, Alan Jackson , Trace Atkins, and Clint Black.
---



Some Other Great Sites

a few comments too!

WRBT My favorite radio Station. Especially The Breakfast Club, with Todd and
Nancy. They really get the Morning going. Hoping to be part of their Possum Posey.
Trying to get a BOB KNOB, since I turned my knob to BOB.
Sammy Kershaw Just love his new CD Labor of Love. Especially "One Day Left to Live." Looks great in a pair of Wrangler's.
Shania Twain Dave can't wait till she starts her first concert tour.

Coming To Philadelphia, August 15, 1998


Wyonna Saw her in concert three times. The Best was when she was with Clint Black at the Hershey Stadium.
Lorrie Morgan Saw her three times too. But the best was her Christmas concert, doing her Christmas CD with full Philharmonic Orchestra.
Neal McCoy Really hoping he come around here. Would like to see him in concert. The same way with Mark Chesnutt .

Favorite Country Magazine is Country Weekly .

Some other good sites are Twang This , Nashville Music Link, Country Stars, and Country .

---
Some of my sites
My index Has my favorite pet photo too!!!!!
Pfaltzgraff Has pics of my favorite dishes Remembrance. Which they don't make any more. Always looking for pieces to add to mine.
If you would like you can