Linda's This 'N'
That Page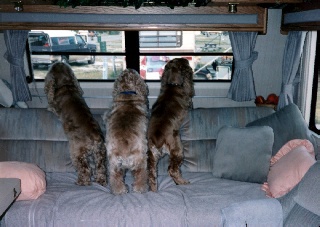 Refunding, Cockers, Collectibles & Country Music
I hope that you enjoy my homepage and watch it improve as I get better at making it a great webpage. I want to share with you my favorite hobby---REFUNDING. Also, to tell you about my family, and our two cockers. I use their two names as my email name, buffybo.. The picture above,I just love. It was taken several years ago, while we were on a camping vacation. This was a Cocker family. Buffy the father, Angel the mother, and Bo the son. But unfortunately we had to have Angel put to sleep. She was just as her name implied, an Angel. She is the one in the middle. How this picture came about, my husband had gone for a bicycle ride. They stood that way the whole time he was gone. Just standing and watching for his return.

Now unfortunately, out of the three, there is only one left.
BO

THE STOUDT FAMILY
I am married to Dave for the past 35 years. I have been refunding for the the past 18 years. I got into refunding through a friend, who has since stopped doing it. I can belive that she has given it up. Dave just loves getting all the goods from refunding. Especially things from the Marlboro and Camel C-notes offers.
Dave and I are parents of two wonderful children, Michelle and Sean. Michelle is 35 years old and just moved to State College, PA.
She accepted a position with a cardiology group there. The One female in the Cardiology group. She is not married yet. NO TIME. She has 3 cats. Vickie Catrania, Her real name is Victoria. I gave her that name, because it was a name my Grandmother wanted someone named. Then there are the two boys, Huckley and Finnigan (aka THE TOE SUCKER.)

Our son Sean, is a 31 year old, married in September of 2001 and purchased a beautiful home in the Oley Valley. He is working full time at CARTECH and going to PENN STATE to get his electrical engineering degree.
Mean while, we will spoil the heck out of our remaining cocker, BO. Believe me, he is as spoiled as can be. BO is so sweet and very cuddlely. Loves to bat those eyes at you, so you give him what you want.

We got a playmate for BO.
A adorable Chocolate Cocker Spaniel, with the name of ANGEL. Not very original, is it.

Since it was a battle between Dave and myself, over what the name should be. We decided on a good name what was the name of a dog we both loved. You decide and be fair and honest. email me.


Please don't feel pressured by my blinking name.

Dave wanted Choco-Bell. Dumb, more Dumb, most Dumb.

I wanted After a Reese's Peanut Butter Cup. She looks like she was dipped in Chocolate. There are no white's around her eyes. Whick makes it quite difficult to see her adorable face. She has some white markings on her chest and a few white hairs right under her lip. Whick looks like a little Go-tee.

For Christmas I bought her one of the new Tickle Me Elmo dolls. Which she loves. Well after Jan 7, Elmo now sings a song. Which when Elmo starts to sing his song after being tickled at a certain area. Angel goes crazy and shakes the heck out of him. Wanting him to stop singing. It is absolutely hysterical.

My Aunt Sallie,(who is younger then me and told to respect her, Yeah, right!!!)gave my adorable Angel a nickname. Hemroid.

How can you respect a JR Fan (Earnhardt), and a person who would give an adorable dog like Angel such a nickname.





A must see is the updated COUNTRY MUSIC page. It has some great pictures there from the DIAMOND RIO concert. Finally, got a picture of me and the most gorgeous man I have ever seen. It only took Dave 3 different concerts to get a good picture. This last time, I told him, it better get good, or I am going to see Judge Waptner. I guess I scared him because it got good.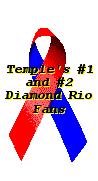 The National MS Society




1-800-Fight-MS (1-800-344-4867)
mailto: info@nmss.org
The National Multiple Sclerosis Society
733 Third Avenue
New York, NY 10017






Submit your page to 34 popular sites for free, using one form!
"LINDA'S OTHER PAGES"